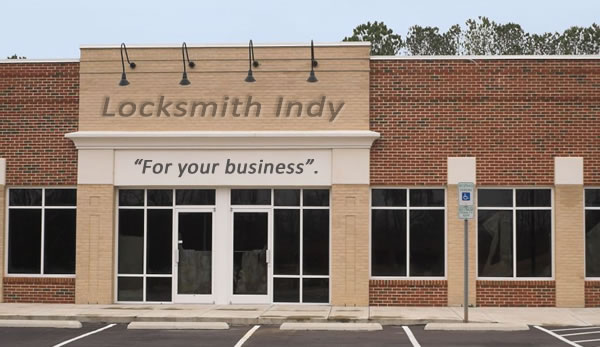 While many business owners today are adding electronic security measures to their office buildings, the standard lock and key method is still the first line of defense in protecting a business from intruders. If you have problems with the locks at your workplace, it is time to contact an Indianapolis commercial locksmith service for expert assistance.
Indianapolis Commercial Locksmith Service
At Commercial Locksmith Indy we provide trained and experienced technicians for all of your commercial locksmith needs. Whether you need a commercial locksmith in Indianapolis, Indiana to repair your locks, unlock a door, or rekey the locks at your workplace, Locksmith Indianapolis can help. We are available by appointment or in emergencies, and our emergency dispatch team is trained to help customers as quickly and efficiently as possible.
Locksmith Indy is a 100 percent mobile business locksmith in Indianapolis, and our technicians are always ready to provide our full range of services no matter what the situation. Rather than having a storefront from which we sell locks, keys and other locksmith materials, we can be at your business quickly after receiving your call – with all the tools necessary to fix your problem, fast.
Choose an Affordable Business Locksmith in Indianapolis, Indiana
One of the factors making our Indianapolis commercial locksmith service so agreeable is our affordable price. Locksmith Indy has some of the best prices for business locksmith services in Indianapolis, IN.  Our goal is to help your local Indianapolis small business with all of your lock and security needs at an affordable price. We offer service contracts to businesses in the Indianapolis area which help control the cost of late night calls for rekey services (when an employee is fired or quits) or fixing broken lock mechanisms when they lose function. We take calls for these type of emergency situations as well as by appointment.
Other Services For Businesses
In addition to the services typical of a business locksmith in Indianapolis, we also offer a range of lock pick and security services for other situations. For example, Locksmith Indy commercial lock technicians will do business security inspections, finding the most vulnerable entry points in a home and providing tips about how to protect it from break-ins. To get in touch with the best Indianapolis commercial locksmith service today, contact Locksmith Indy.